I get a lot of questions about how I create pet portraits, especially at art festivals. Here's a handy dandy Q&A to help you decide if I'm the right artist for your pet portrait, how my process works, and some things to keep in mind when searching for a pet portrait artist.
Do I bring my pet to your studio or do you work from photos?
I get this question ALL the time. I work primarily in colored pencils, so my process is SLOW. No pet is gonna sit still long enough for me to do what I do, so I work from your photos. Usually I have one photo I am mainly working from, but I may use additional photos to get better views of the eyes, fur, etc. The photos don't have to be of fantastic quality. You just need to like the pose of your pet in the photo.
Other artists can and do work from live models, so if this is something that's important to you, be sure to check with them.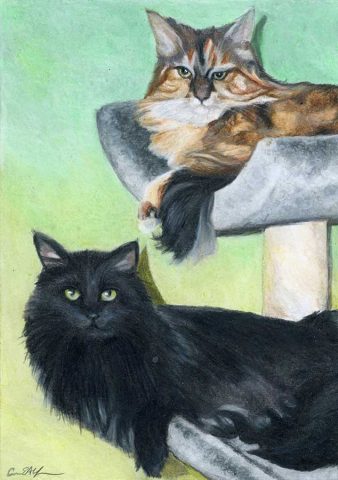 My pet's fur is black, and I can never get a good photo! Can you help?
This is a very common problem. If you have photos, I can usually get what I need to draw you pet. Between years of experience of drawing animals and the ability to adjust photos in Photoshop, I can add in all those details that you see with your eyes but never seem to capture with a photo.
What does a pet portrait cost?
It depends on what style of portrait you want. I offer mixed media portraits in several styles starting at $95 for a 5″ x 7″ portrait. I offer colored pencil portraits starting at $185 for a 5″ x 7″. You can see the different styles on my website. I do offer payment plans.
How do I protect my pet portrait?
I use artist quality materials for my portraits. If you have chosen to frame you portrait, be sure to use an acid-free mat and UV filtering glass or acrylic. This will help protect your portrait from light damage. If your portrait is mounted to a wood panel and ready-to-hang, I have coated it with several layers of a UV filtering varnish. No matter how the portrait is finished, try to keep your portrait out of direct sunlight. This is true of most artwork and art prints. 
How long does it take for you to create my pet portrait?
This will vary based on the number of projects I have going at the time, but in general, expect it to take around 4 weeks. If you have a tighter timeline, let me know when you contact me, and I will try and work with you.
How do we get started?
Email is the best way to contact me. Please include your photos, and if you know what size and style you're thinking, that helps me too.
ADDITIONAL THINGS TO KEEP IN MIND
When choosing an artist to work with, be sure to choose someone who's style you like. 
Most artists will require a non-refundable deposit for a commissioned work. That way if at some point through the process you are not happy with the piece, the artist still gets paid for the time he/she put into the piece.
Make sure the artist plans to send you progress shots.